Filter by Category
Our Classes
Graphic Design Basics (ages 11-18 yrs)
with SoLa I CAN Team

Jan 12, 2023 at 6:15 pm

, runs for 12 weeks
Graphic Design Basics 
Middle & High School Ages: 11-18 yrs / Thursday's
Intro Course Description
An image can represent a thousand words; if it's designed to. In Graphic Design Basics, tech scholars develop an eye for design and learn how it pertains to memory and communication. Scholars will explore how a well-designed image can influence marketing. Throughout this course, Tech Scholars use professional digital design tools like Adobe's Illustrator, InDesign, and Photoshop to convey their understanding of graphic design following concepts.
By the end of the course, your scholars will understand::
Color theory 
Typography
Trademark
Marketing
The seven elements of design
Design Principle
Project Management
Full Course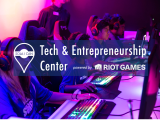 World of Minecraft (ages 8-10yrs)
with SoLa I CAN Team

Jan 19, 2023 at 3 pm

, runs for 12 weeks
World of Minecraft
Elementary Ages: 8-10yrs / Thursday's
World of Minecraft will introduce young scholars to the world of infinite ideas that Minecraft facilitates. This course will take advantage of Minecraft's Realm program, which will take Tech Scholars through minigames, stories, and adventures. Tech Scholars will have the opportunity to work collaboratively in groups of ten to overcome challenges and solve puzzles. All Tech Scholars will be able to present their solutions based on their ideas. 
By the end of the course, you will: 
Be able to use Mouse and Keyboard
Use Minecraft Server Connections 
Problem-Solving
Critical Thinking
Learn how to communicate with teammates
Enhancing computer literacy
Full Course
Next Generation Financial Teaching (NFT/WEB3)
with SoLa I CAN Team

Feb 1, 2023 at 6:15 pm

, runs for 8 weeks
Next Generation Financial Teaching  
Eligibility:
High School (Ages: 14-16 yrs) 
Attend In-Person Sessions (WED, 6:15 - 7:45 pm)
Commitment Acknowledgment: This in-person course requires a strong commitment. All participants who successfully complete the 8-week course will have the opportunity to showcase their work in a special SoLa event. 
INTRO COURSE DESCRIPTION
The Next Generation Financial Teaching program is an 8-week comprehensive experience for 14-16-year-olds that empowers participants to learn about the emerging technologies driving the Web3 revolution, particularly blockchain, cryptocurrency, and NFTs. During the eight weeks, participants will design their cryptocurrency and NFT and develop a pitch deck for their products. Participants walk away from the course Web3 entrepreneurs.
Course Learning Objectives
Become a digital entrepreneur that cultivates creativity, problem-solving, and product development. 
Learn the fundamentals of blockchain technology. 
Design and market an NFT
Engage with Web3 marketing and monetization strategy and tactics.  
Learn the history of the internet from Web1 (roughly 1990-2005) to Web2 (roughly 2005-2020) and now to Web3.