Filter by Category
Membership Fee Per Tech Scholar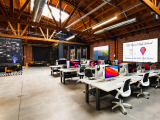 Annual Membership Fee

Sep 11, 2023
Hello Future Sola I CAN Technology & Entrepreneurship Center Member!! 
We are excited that you are ready to be a part of the SoLa Family, and we can't wait to meet you in person. 
By Paying the $25.00 membership fee (per child), you will have access to the following benefits...
SAFE & FUN Learning Facility
FREE Tech & Entrepreneurship Center Programming (per member) 
Access to FREE Tutoring, Coaching, Mentorship
Access to OPEN PLAY days (schedule to be emailed out)
Access to our Technology for all of your homework & project needs
Once you have submitted payment for the annual membership, you will receive a confirmation email with access to a schedule where you can click on any of the classes to register. 
You MUST complete the following steps to officially select and register for your preferred programs. 
Open the email (if you did not receive your confirmation email, please check your "JUNK" or "SPAM" folder)
Once opened, click on the individual links on the attachment to access the class registration. 
Complete the registration form and submit.
You will then receive a registration confirmation email from us with our location, orientation information, and a schedule that will allow you to click any available class to register.
If you need assistance with registration or accessing your confirmation email please contact us at 323-306-4645 or email at info@solaican.org.
In this email, the Fall 2023 Program Schedule will be attached in both English & Spanish. 
Don't wait!! Become a member and register for our 2023 FALL Session NOW!! 
We look forward to meeting you soon!
Spanish/Español:
¡¡Hola Futuro Miembro de Sola I CAN Centro de Tecnología y Emprendimiento!! Estamos emocionados de que estés listo para ser parte de la Familia SoLa, y no podemos esperar a conocerte en persona.
Al pagar la cuota de membresía de $25.00 (por niño), tendrás acceso a los siguientes beneficios...
Instalaciones de Aprendizaje SEGURAS Y DIVERTIDAS
Programación GRATUITA del Centro de Tecnología y Emprendimiento (por miembro)
Acceso a Tutoría, Entrenamiento y Mentoría GRATIS
Acceso a los días de JUEGO ABIERTO (el horario se enviará por correo electrónico)
Acceso a nuestra tecnología para todas tus tareas y proyectos.
Una vez que haya enviado el pago de la membresía anual, recibirá un correo electrónico de confirmación.
Usted DEBE completar los siguientes pasos para seleccionar oficialmente y registrarse en sus programas preferidos.
Abra el correo electrónico (si no ha recibido el correo de confirmación, compruebe su carpeta "JUNK" o "SPAM").
Una vez abierto, haga clic en los enlaces individuales del archivo adjunto para acceder al registro de clases.
Rellene el formulario de inscripción y envíelo.
A continuación, recibirá un correo electrónico de confirmación de inscripción con nuestra ubicación, información de orientación y un calendario que le permitirá hacer clic en cualquier clase disponible para inscribirse.
Si necesita ayuda para inscribirse o acceder a su correo electrónico de confirmación, póngase en contacto con nosotros: 323-306-4645 o por correo electrónico en info@solaican.org.
En este correo electrónico, el Programa de Otoño 2023 Horario se adjuntará en Inglés y Español.
¡No espere más! Hazte socio e inscríbete en nuestra Sesión de OTOÑO 2023 ¡¡¡YA!!!
¡Esperamos conocerte pronto!