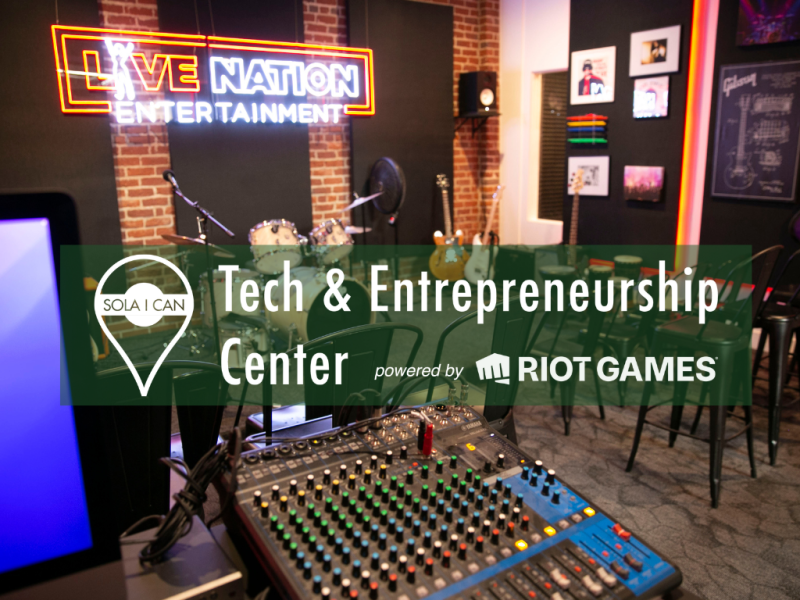 Live Nation Next Gen (Paid Apprenticeship)(ages 16-21)
with SoLa I CAN Team
Free
Live Nation Next Gen Apprenticeship
High School & Young Adult (Ages: 16-21 yrs) 
In-Person (Tues & Thurs, 6:00 pm - 8:00 pm)
Program Overview - The SoLa I CAN Foundation is partnering with Live Nation Entertainment to train a new generation of Black and brown industry professionals from South LA. The Live Nation NextGen paid apprenticeship program's 20 Tech Scholars (ages 16-21) explore career pathways in the live music industry through technical training and mentorship from industry insiders. In each session, Tech Scholars will have the opportunity to deploy their newly acquired skills as they produce a festival of their own. 
Program Description - This program aims to provide a deep look into "Live," the exciting world of concerts and music festivals. Tech Scholars learn what it takes to organize and promote at the highest level. The course begins with an overview of each element of the planning and execution of the world's biggest music festivals. Hands-on workshops supplemented with renowned guest speakers help highlight the various opportunities available within the music industry.
Tech Scholars get a chance to discover career paths that they may have never known existed. At the end of the 6-month session, every Tech Scholar will have comprehensive knowledge of booking, production, merchandise, sponsorships, ticketing, and much more! 
This in-person program requires strong commitment, and all applicants will undergo an interview before being accepted. Please note that registration does not guarantee enrollment.
PROGRAM LEARNING OBJECTIVES: 
Hear firsthand from industry professionals and executives what it takes to excel 
Understand the fundamentals of marketing, promotion, and branding related to concerts and music festivals.
Learn how to work with others as you divide your workload and execute a fully ticketed music festival together with a brand of your own
Familiarize yourself with the different roles and responsibilities of festival staff on the day of an event
Learn what it means to work hand in hand with artists and the teams that are behind them
Learn about revenue and the world of sponsorships and activations

Jan

10

-

May

20th

,

2023

Tue and Thu

for

19 weeks

from

6:00 - 8:00 pm

Will run
SoLa Tech & Entrepreneurship Center
1000 E. 60th Streeet
Los Angeles, CA 90001 Get directions
Room: Live Nation Jam Room